Let's talk about my apartment.
You'd be surprised how often I get emails wanting to know what my apartment looks like.
Nosey bitches.
But before I get to some pictures we need to talk. I have some disclaimers I'd like to share with you guys.
1. My rent is super affordable.
Cheap
.
2. My landlords are the bomb.com
3. I didn't have to sign a lease. I can literally move out tomorrow if I wanted to or I could choose to stay there for another 8 months. All my decision.
4. The appliances are brand spankin new.
5. My utilities bills are really affordable.
6. It's really large for a 1 bedroom.
7. All of my friends have teeny, tiny apartments that cost a hell of a lot more than mine.
8. Tons of storage and closet space!
9. My landlords grandson-in-law plows our parking lot when it snows and shovels my car out. He rocks.
10. Its has brand new windows and doors and the outside was just re-insulated and re-done.
Those are the reasons I
love
my apartment. I felt the need to share those with you before I showed you any pictures.
Let's start with the layout.. I made a diagram. I'm adorable.
The
pink
lines are the doors and the
blue
lines are the windows. The
green
square in the kitchen is the fridge and the
green
rectangle is the counter/cabinet space.
Okay and now I'm just going to post some pictures. You should know I took these not long after I moved in, so a lot of the actual decor isn't the same now, but I'm not showing you these pics for the decor..
You've been warned..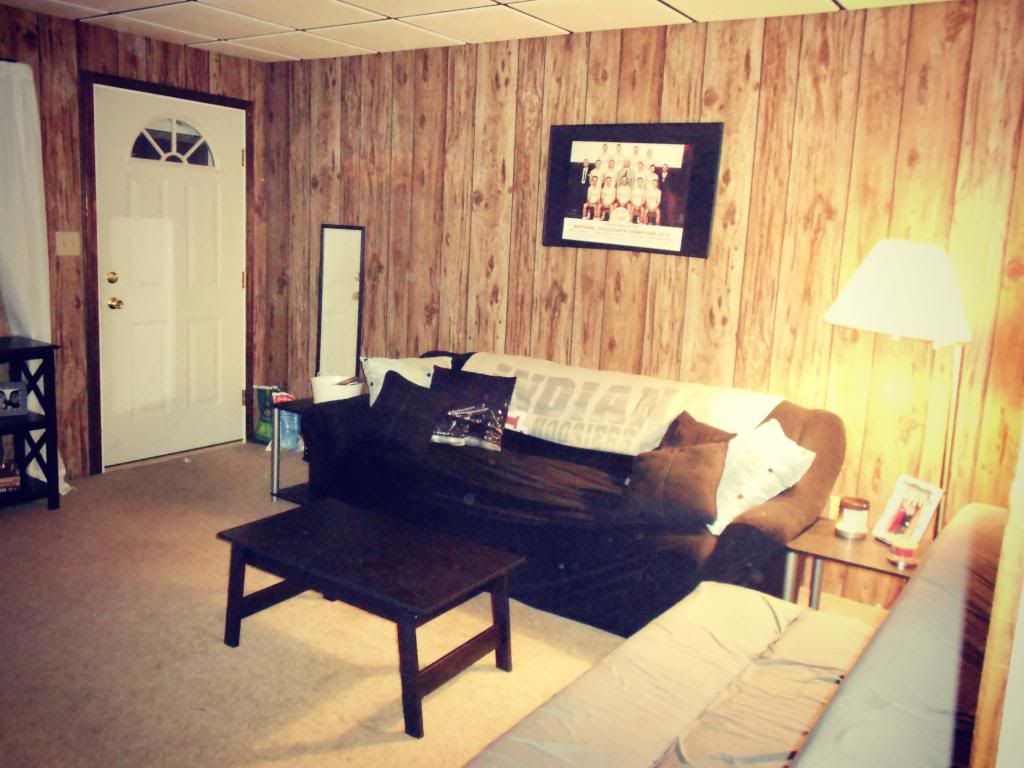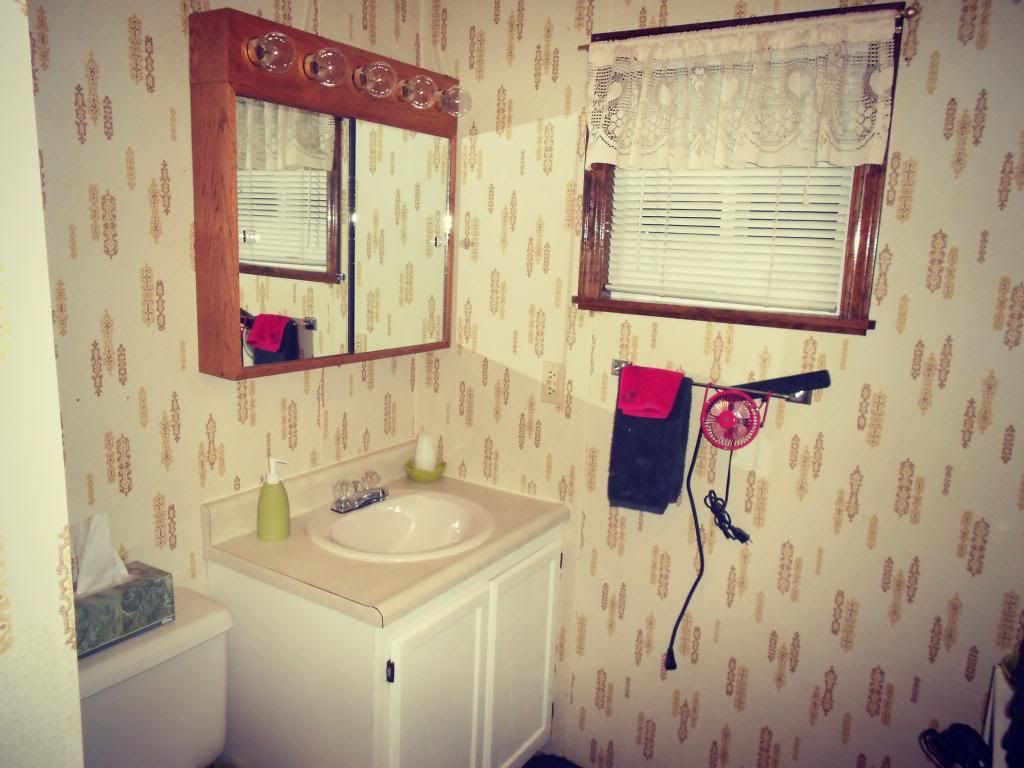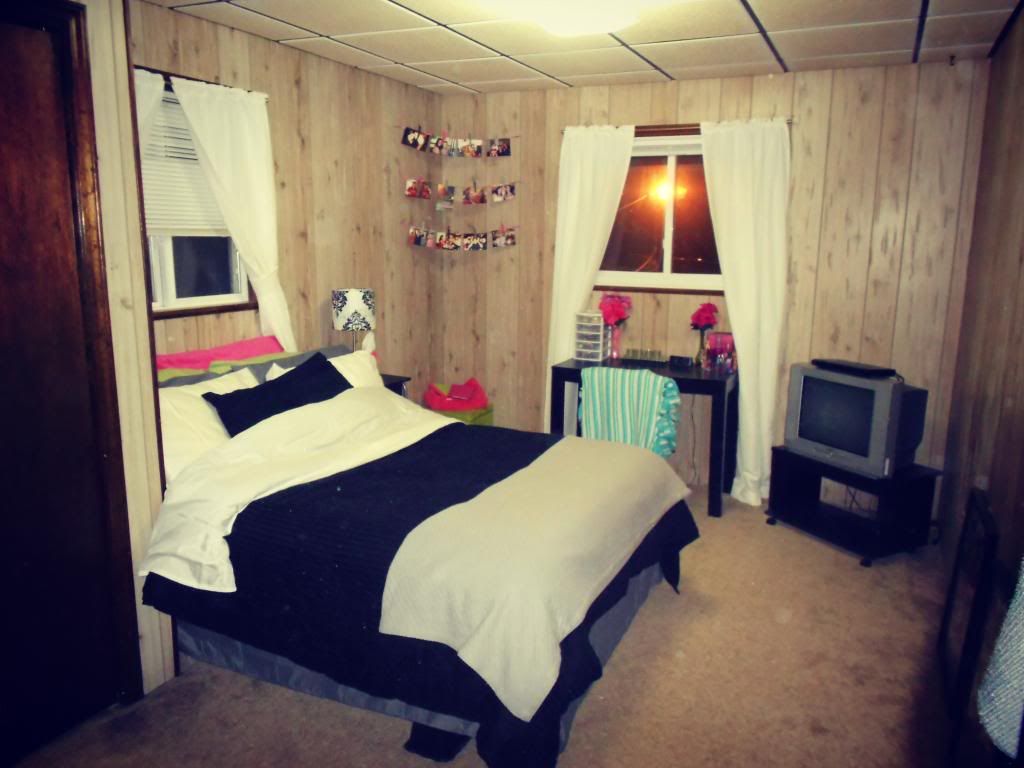 Why yes, yes that IS
wood paneling
. A lot of it. And some strange wallpaper in my bathroom that is also in my kitchen. I however do not have a picture of my kitchen for some reason. I've looked all over my laptop for it.
Anyway, you might also like to know that I have carpet in my bathroom and my kitchen. Yes, my kitchen has carpet. Overall a good portion of the inside of my apartment hasn't been updated since 1973, I think.
The lace curtains in my bathroom and kitchen
(the lace curtains in the kitchen have ducks on them)
are also courtesy of my landlords. His wife makes them. I can't bare to take them down. So even though these pictures are from months ago, those lace curtains are still there. Character.
Oh and yea, that's a drop ceiling.
*Update!
I found 2 photos that you can see my kitchen in! One in
this post
. And this one..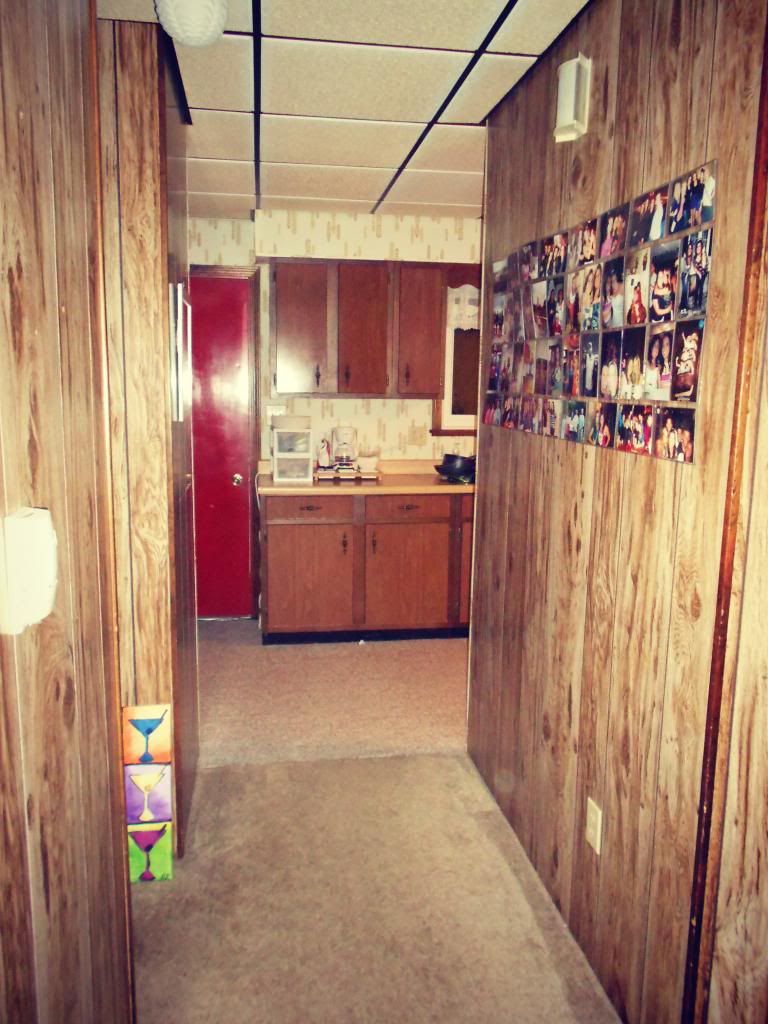 Mostly, I just laugh at my apartment. It's not my forever home, so it doesn't really bother me very much anymore. I also know that it'll make for a fun story later on in my life. The good outweighs the bad.
So here's the official response to everyone asking about my apartment! Wood paneling, lace ducks, wall-to-wall carpet, and a red back door. You asked for it.
. . . . . . . . . . . . . . .
Oh and in case ya didn't notice, I added a new book to my
Book Nook
spot! Just started reading this last night! And I've already read 5 different endings!