Because it's Friday, let's talk about a few things that are currently annoying me.
ONE
It will forever be my biggest pet peeve when someone says "broke" when they mean "broken".
So, let me get this straight, your laptop is poor? It has no money of its own? Because that is what you just said. OH, you meant that your laptop is broken. Now I understand. Thank you for clearing up my confusion. Say that again and I'll
break
your laptop, promise.
TWO
I live on the 2nd floor of a 2 story apartment building. I have one downstairs neighbor. He currently can't drive his car because of the multiple DUIs he's managed to rack up. He works the night shift. He's told me multiple times he starts work at 10pm. I hear the obnoxiously loud truck that picks him up every night at 5 minutes til 10pm. I know where he works. I know for a fact it takes longer than 5 minutes to drive there, no matter how fast you decided to speed. But like clockwork, every night, 5 minutes until 10pm. I personally don't care if he's late for work or not, but I get irrationally annoyed every single night at 5 til 10 when I hear that truck and I know he's going to be late for work. Every. Night.
THREE
I don't understand the "i before e, except after c" rule.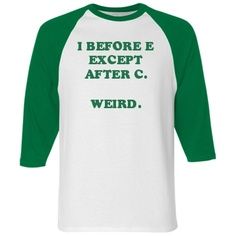 I read the other day that there are
923
words in the English language that break that rule and only 44 words that follow it. I have no way of knowing if that's true or not, but I did make a little list of words that don't apply that people use frequently.
Weird. Height. Science. Protein. Glacier. Leisure. Neighbor. Society. Weight. Veil. Vein. Beige. Caffeine. Efficient. Foreign. Their. Feisty. Being. Onomatopoeia.
Okay, so no one says that last word frequently, but I think we should.
But seriously, who made this rule?
It feels like some evil trick they teach 1st graders so for the rest of their lives they second guess their spelling, constantly. Well played, teachers, well played.
FOUR
Any and all bloggers who think they're better than any other blogger. Honestly, I just want to slap you. And then I want to laugh at you. Is it just me or is that whole way of thinking just.. stupid. And childish.
It's awfully easy to bring people down behind that computer screen.
And that's all I have to say about that.
FIVE
When tv shows don't understand the different between a cliffhanger and "to be continued". It's that time of year. Most of my tv shows are having their season finale episodes. It's expected that the finale will end with a cliffhanger so you'll watch the premiere in the fall. Totally acceptable. What is not acceptable? When they end a season finale with the words "to be continued". NO. It was like they taped an episode, cut it in half, only showed us the first half, and now we have to wait 4 months for the 2nd half. Not nice. Incredibly annoying.
. . . . . . . . . . . . . . .
I don't know why I'm so cranky this morning. I have a 4 day weekend ahead of me! So I'm going to go enjoy it!
Feel free to comment and tell me things that are annoying you! I love a good vent session!