If you follow me on
Twitter
, then you probably know what today's
Saw it, Pinned it, Did it
is going to be.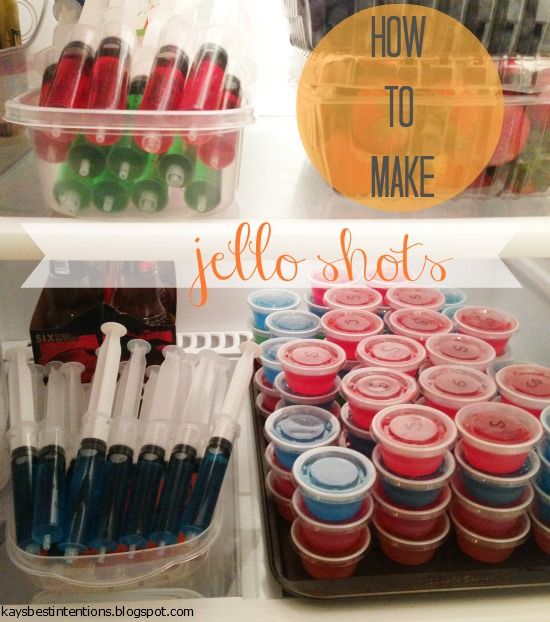 Yep, how to make Jello Shots.
Here's the
Original Pin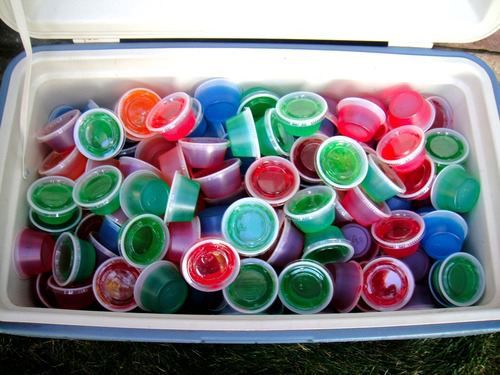 Truth be told, there are about a thousand different pins on
Pinterest
about this very same subject. I just happened to find this one the most useful
this past weekend
. Ya know when I made approximately 125 of these babies and they were
all
consumed while watching
cars turn left
.
To make these you're going to need the essentials..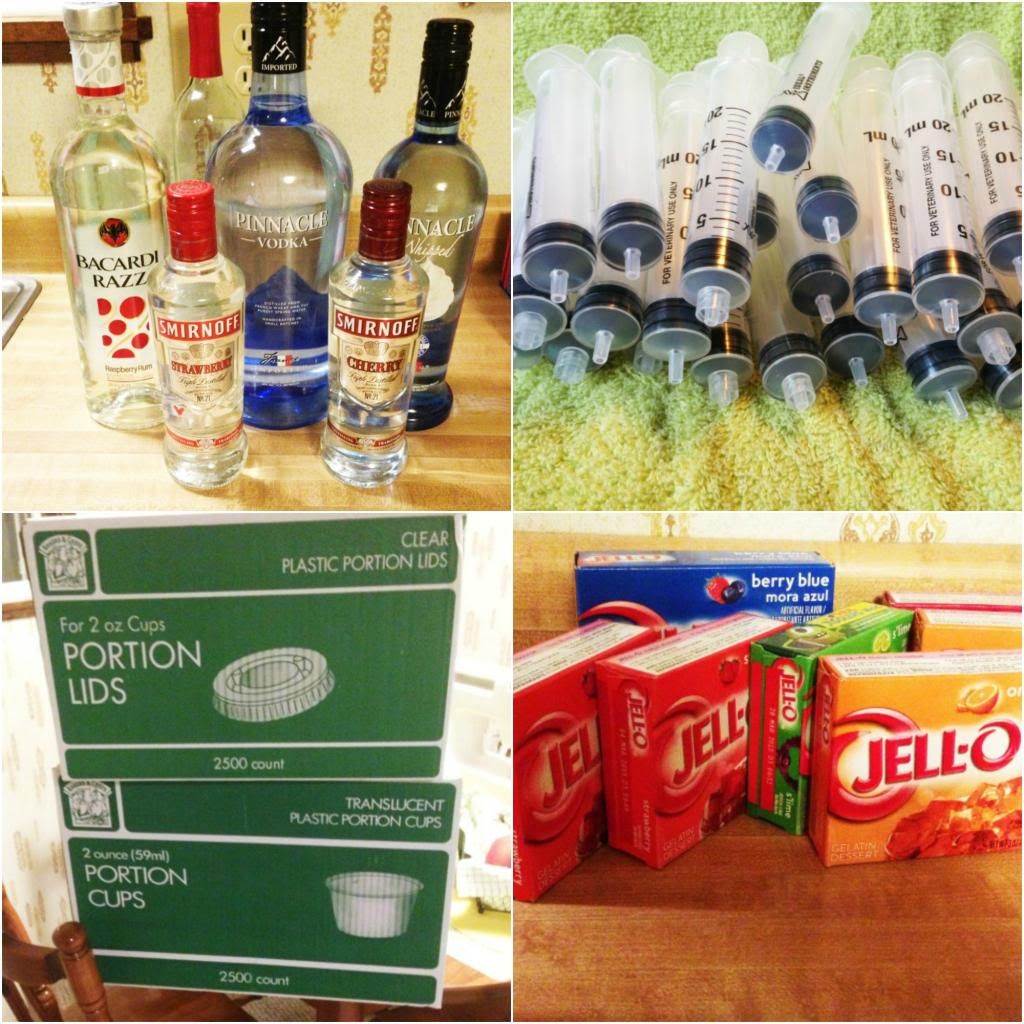 Alcohol and jello being the most important players in this game. Flavors, brands, types, etc. are all based on personal preference.
The portion cups and lids aren't totally essential, but I recommend them. I got mine from Sam's
(same thing as a Costco)
and they weren't exactly cheap. But do you see the box? 2,500 count. These puppies will last me forever and ever. And I plan on using them for more than just jello shots, no worries, Mom.
Another item that isn't essential would be the syringes. I actually only got them based off of a suggestion from a reader,
Amy
. I must say though, they turned out awesome and everyone loved them! I got mine at a local farm and feed store. I live in Indiana, guys. We have some kind of farm and feed store about every 5 miles. If you don't
live in farm country
have access to one of those stores, I found
these
on Amazon!
Oh and here's my secret ingredient..
I know what you're probably thinking. But trust me. Adding extra sugar cuts some of the alcohol taste out of the jello shots. So they taste way more like jello and way less like rubbing alcohol/children's cough syrup. If you're worried about the extra calories the extra sugar will add to a jello shot.. Well maybe you shouldn't be having jello shots in the first place. They aren't known for being low-calorie to begin with.
Recipe..
1 C. boiling water
1 3oz package of jello
1 C. alcohol
1/4

C.

sugar
Pour boiling water, jello package, and sugar into a bowl and stir for 2 minutes. Seriously, stir for the entire 2 minutes or they will be grainy and disgusting and no one will invite you to any more parties.
Then add the cup of alcohol. My recommendation is to use some kind of flavored alcohol. Or 1/2 C. of plain alcohol and 1/2 C. of flavored.
Then you can either transfer the liquid into the little cups
(i highly recommend pouring it out of the bowl and into a smaller measuring cup with a spout for ease of pouring into the 2oz cups. this is one of those tips i learned along the way.)
or suck it up into the syringes.
Each batch
(using the 3 oz packages of jello)
made
15-20 jello shots
. Depending on how much you filled the 2oz cups and how much you put in the syringes.
Then pop them into the refrigerator for approximately 4 hours. I left mine alone overnight.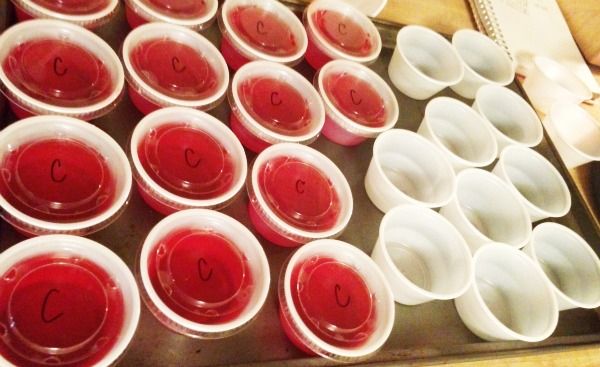 And YES, I did label the red ones so that I would know the difference. I'm
that
girl.
I also recommend clicking on the Original Pin and checking out that website. They have a ton of different combinations you could do to make different kinds of jello shots. I made an
Orange Creme
version that everyone LOVED.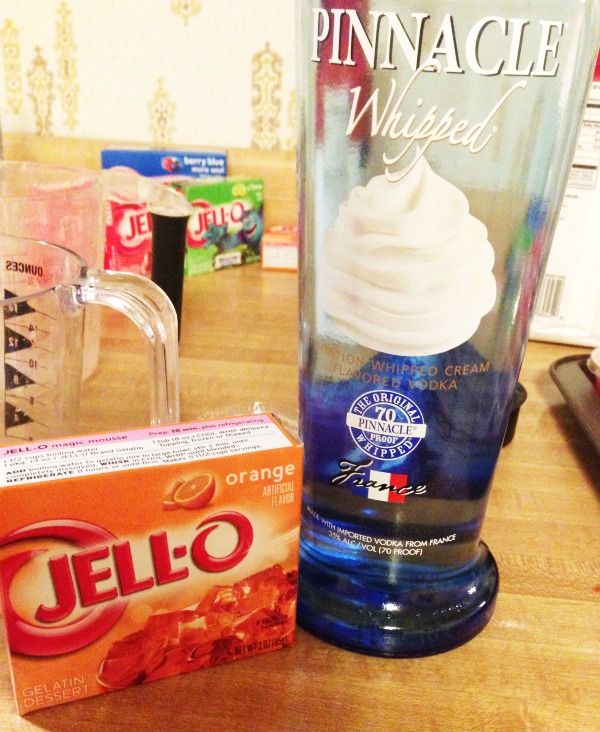 Basically these were a huge hit and super simple. And the extra sugar secret is a must! Everyone told me they could definitely tell a difference in the ones I put the sugar in and the ones I didn't. The ones I didn't tasted a little too strong, even though I followed the same steps, just minus the sugar.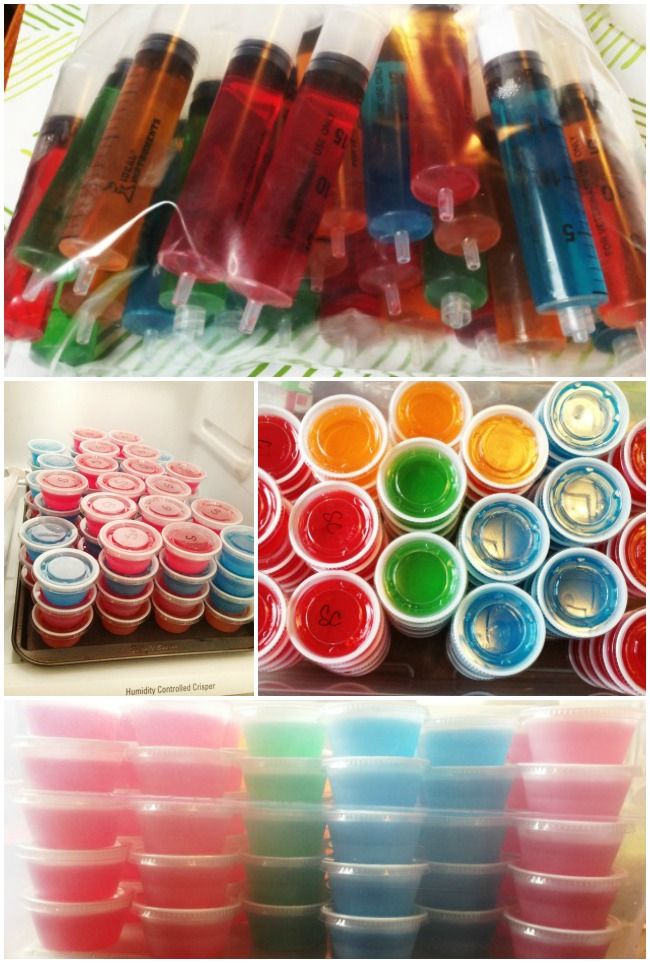 Now, that I've got you liquored up, hop on over to
Steph
and
Katie
's blogs and tell them THANK YOU for hosting this link up that I'm completely obsessed with.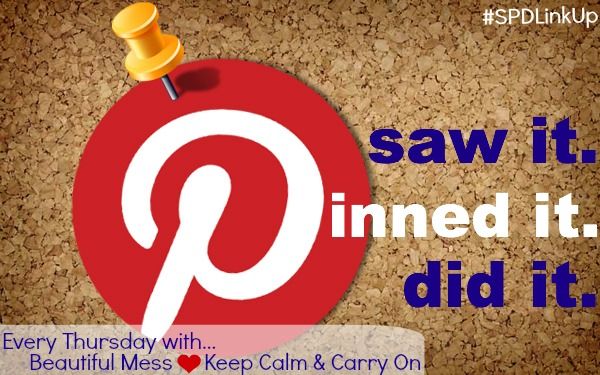 And then come back tomorrow because I'll be linking up with
Whitney
AND
Venus/Sarah
. Stop it. Craziness, I know.