A collection of my blog posts regarding my fitness journey and my lifestyle change.. I should mention that I'm only including and linking my favorite or the most relevant posts regarding my fitness journey here. Instead of spamming you with unnecessary rambles, I'm only including the good stuff. Trimming the fat, if you will.. Pun definitely intended.
Five Reasons My Diets Always Fail
The Battle Of The Green Beans
Lifestyle Change
21 Day Fix Beginnings
21 Day Fix Review & Opinion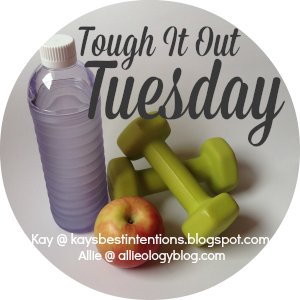 A weekly linkup with
Allie
!
Tough It Out Tuesday - The DietBet Edition
Tough It Out Tuesday - The Goal Edition
Tough It Out Tuesday - The Do-Over Edition
Tough It Out Tuesday - The NSV Edition
Tough It Out Tuesday - The Secret Edition
Tough It Out Tuesday - More Of The Same Edition
Tough It Out Tuesday - The Tax Deadline Edition
Tough It Out Tuesday - The Workout Plan Edition
Tough It Out Tuesday - The St. Louis Edition
Tough It Out Tuesday - The Don't Make It Complicated Edition
Tough It Out Tuesday - The I Don't Love Working Out Edition
Tough It Out Tuesday - #100ouncesAday Edition
Tough It Out Tuesday - The Perspective Edition
Tough It Out Tuesday - The June Fitness Goals Edition