Once again, I don't know what to say.
Is it just me or has it been a hard year? I've gotten teary eyed watching the news one too many times this year.
Tornadoes scare me. Always have, always will.
When I was younger my home was destroyed by a tornado. My dad, mom, and I were next door at my grandparents house taking shelter.
I was a child, so I have a child's memory of that day and the days following. The tornado struck a few days before Thanksgiving, so my family had a few extra reasons to be thankful that day.
Now, in my twenties, I know how much we truly had to be thankful for. Yes, we had no home. Yes, all of our possessions were destroyed and thrown into the road and the trees across the street. Yes, all of my baby pictures are gone. But no, we weren't hurt. No, I didn't lose my parents. No, my parents didn't lose a child.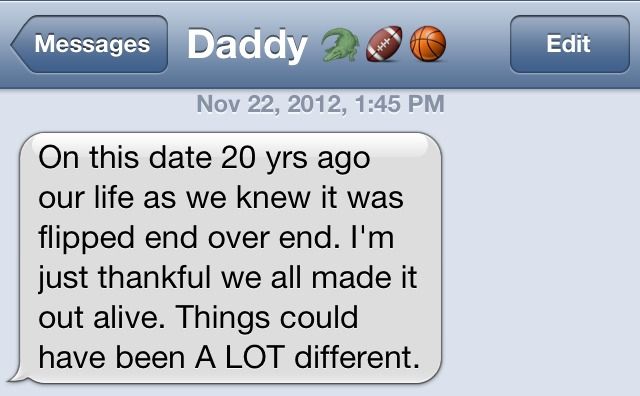 The tornado did have a few lasting effects. My dad is hyper aware of every storm that comes through our area. The amount of texts and calls I get when a thunderstorm comes into town, that has a 5% chance of producing a tornado, is unreal. I also have serious anxiety when it comes to tornadoes. While some ignore and blow off a tornado watch, I get panicky and usually call dad. A tornado watch can turn into a tornado warning within seconds. And then a tornado could destroy a town in minutes. That quickness scares me.
Tornadoes scare me.
Which is why I was glued to the television last night, doing a piss-poor job of holding in my tears.
Oklahoma, I'm thinking of you.
I'm sending happy thoughts and love your way. I wish I could send more. I wish I had those kinds of healing powers.