This morning I have a case of the
wants
..
I want winter to be over.
I want IU to win tomorrow night.
I want to own a home.
I want a dog.
I want to devour all of the Reese's eggs in the state of Indiana.
I want ABC Family to un-cancel Ravenswood since I was just starting to actually enjoy it.
I want to win the lottery.
I want Frozen to be out on DVD so I can watch it repeatedly. #OlafForPresident
Do you know what I think?
I think I can want and want and want all day long.. but that isn't very productive.
This week I need to be productive.
Like crazy person productive.
Like college finals week productive.
I also need to finish the
Blogger Book Club
book for this month!! Join me!
Oh also, I got an email last week and guess what.. I was nominated for an award.
No, I'm not pulling your leg.
At first I was just like "Oh, that's really sweet" and then I started clicking around and discovered that this is legit!
">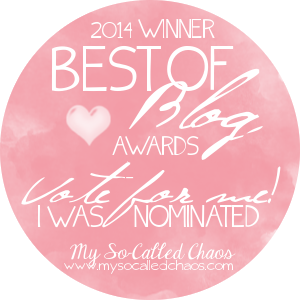 THEN I
LAUGHED OUT LOUD
, because I was nominated for a blogging award in the category
Best Single Bloggers
.
LOLOLOLOL..
So, if you want to, because you totally DO NOT have to, you can vote for my blog for "Round 1" voting until February 20th. It's really easy to vote, but it kind of sucks a little because you are forced to vote in every single category. So, do as you please.
And to whoever nominated me,
THANK YOU!
#singleperks #single4lyfe