So today I have something exciting to share with you guys!
It all started last week when
Darci
posted this on Instagram..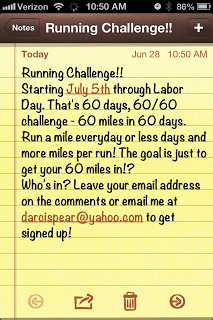 It took me approximately 15 seconds to decide to add my email to the list.
At the beginning of June I mentioned that
I want to run a 5k
. I really do and I want it bad. While we were on vacation I ran a few times and since we've gotten back, I haven't gotten out of that routine.
What? You say you haven't seen me tweet it, instagram it, or blog about it? Well that's because I haven't. I really trying and really working on doing things for myself. It's a bit of a personal journey I'm on right now. I needed to know if I could keep myself motivated on my own, this is
not a new concept
for me.
However, I need a mini-challenge. Working towards running a 5k is great. It's a challenge I want and one I'm working towards. But, uh.. that could be a long way off. Or maybe not, I don't really know. I do know that having another challenge to work on while I'm working on the big challenge could never be a bad thing.
So insert #60inSixty.
Basically the goal is to run, walk, or jog 60 miles in 60 days.
July 5th-September 2nd.
Darci is keeping track of all of the participants progress by using Instagram. We will be posting pictures of whatever we use to keep track of our miles and using the hashtag
#60inSixty
.
If you want to join the challenge, email Darci at darcispear@yahoo.com!
I highly encourage anyone and everyone to join the challenge! I think it's going to be really fun and definitely something for me to work towards! And it won't hurt to build a community of people working towards the same thing as you!