Is everyone ready? Because I'm about to shove a lot of information at you in a short amount of time.
Buckle up, kids.
First of all, a little
#60inSixty
update.
Number One - Best thing I ever did for myself,
ever
.
Number Two - Every run gets easier and easier and I start to like them more and more. I'm surprised and confused by this.
Number Three - I need new running shoes. Shin splints are the worst.
My official #60inSixy mile count:
Working my way there one run at a time. I have taken the last few days off, based on everyone's suggestions, to deal with my shin splints. Because well, OW.. but ice and a couple days of not running has helped tremendously.
Also, I highly recommend C25K. Seriously, whoever created it knew what they were doing. It progresses at just the right pace for me and when it doesn't? I just repeat the last run. Works so perfect for me. Really happy with this app.
. . . . . . . . . . . . . . .
Alright, moving along. Do you know
Samantha
? Well if you don't get familiar with her real quick.
Done? Alright, she's awesome and she's doing something
really special.
In March 2012 her 16 year old sister died in a tragic car accident. Without going into any kind of detail, let's just say I understand that pain. To honor her sister Maggie, a foundation was started in her name.
The Maggie Bertram Foundation For The Fine Arts.
Samantha has decided to help raise money for the foundation by training for and running a half marathon in September.
As a part of raising the money, she started a
Running For Maggie
movement. She's also created a
FREE
virtual 5k
for anyone to run or walk between August 5th and August 11th. It's free because this virtual 5k is just to honor a beautiful life.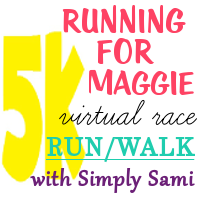 This is absolutely something I feel
very
passionate about and so I feel absolutely zero shame in asking MY readers to join me in this virtual 5k. It's a run OR a walk.
If you want to participate, email Samantha at sciaccio3@gmail.com.
And if you would like to donate to The Maggie Bertram Foundation For The Fine Arts, please email myself (kstoll129@gmail.com) or Samantha and ask for details and instructions on how to do so.
#Running4Maggie
. . . . . . . . . . . . . . .
Last, but not least..
Does anyone remember my
July Goal list
? Remember when I added "Do Something Spontaneous" to the list? Well, let's go ahead and check that puppy off the list..
I signed up to run a 5k on September 28th.
It's called
Hoosiers Outrun Cancer
and a few years ago I walked the 5k in honor of a friend's grandfather, so I get the emails every year still. Well I got it again last week. Then I sent a text to 2 of my best friends. About 3 minutes later I signed up. To run it.
So it's officially official.. I'll be running my first 5k in September.
Other than my 2 friends, I haven't told another soul I did this.. Sooo.. SURPRISE!
And on that note, I'm gonna go run.