Today is
Blogger Book Club
day.
Today I should be reviewing the April book for BBC.
But I'm not, because I didn't read it.
I've been
dreading
writing this post. Because honestly, I knew last week that I wasn't going to read the April BBC book. Because last week I made some decisions regarding my blog and my life.
Let's talk about some of them for a quick second.
Here's why
Blogger Book Club
wasn't working for me anymore:
Because I felt like I HAD to read the book before the end of the month, I wasn't interested in reading the book. It didn't matter how good the book was, I was almost always waiting until the last minute to read it (except for Wallbanger and The Fault In Our Stars) simply because I knew I had a deadline.
The pressure to pick a new and exciting book that multiple people would want to read every month really stressed me out and completely sucked the fun out of the whole situation.
I didn't have enough people reading the books with me and creating discussions with me for it to make it worth my while to deal with the above two bullet points.
It just plain stopped being fun.
I love reading and sometimes I love reading stupid, random books or total trashy romance novels or sometimes I like to read books that make me cry or think or learn a new thought. I used to devour books. I would read 3+ a week. My life was a little different then and my reading has slowed down a lot. Now I use reading as my "me-time". Lately I was using my precious "me-time" to force myself to read a book and then write a review on it before I could forget anything. It just stopped being fun and it wasn't even a little bit relaxing. Also, because I was choosing books I thought everyone would like or want to read, my own personal "To-Read" pile kept getting bigger and bigger and I was running out of "me-time" to read it. The whole damn situation was annoying.
I told you all of that to tell you this..
Blogger Book Club is no more.
I need to find a way to enjoy reading again and I need to simplify a few things on my blog to make room for some bigger and better things. On my blog and in my life.
I have a really awful habit of biting off more than I can chew and overwhelming myself. I've said yes to a few things lately and made the choice to take on a few new things that if I don't adjust the current things in my life, then I'm going to turn into a hot mess. Minus the hot.
If you did read The Scent of Lightning and Rain and wrote a review, comment below and I'll tweet it out so others can read it.
Thank you for your patience and, hopefully, for your understanding.
. . . . . . . . . . . . . . . . . . . . . . . .
In other, more exciting news, DON'T FORGET to come back tomorrow for the Honey Roast with
Sarah
,
Juliette
,
Becky
, and I!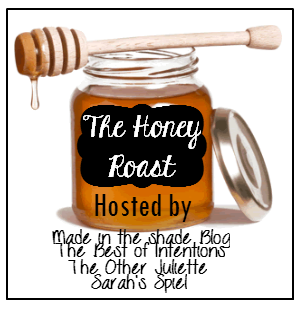 To read more about the Honey Roast,
clicky here
!
See you tomorrow, friends!