Usually when I do a TV recap post I recap and review a ton of TV shows at once, BUT..
1. I don't have time to type all of that out today and..
2. I'm not caught up on
most
of my shows.
So today you're just getting a few shows. PS. I watch too much TV, I know.
Spoilers will follow, I'm sure, so here's your warning. This is the only one you're going to get, so use it wisely.
Pretty Little Liars
Honestly, I can barely talk about this TV show without losing my temper. Ezra isn't A, which.. ugh, annoys me. I really liked Ezra being A. Instead he's just a super creepy old guy who likes high school girls, which I guess we actually already knew. I don't know. See, the problem with PLL now is that I truly like some of the storyline possibilities,
however
I. Marlene King usually screws them up or drops them all together. Which just.. makes my blood boil. I mean, she brought Noel back now? At this point in the show you're going to reintroduce that character? I had totally forgotten him. Det. Holbrook has some serious potential to be a really interesting character, but I'm sure that'll end quickly. I
hate
Aria's character entirely at this point. The rest of the liars are fine, I guess, and actually Spencer had a pretty good storyline at the end of season 4. Oh and the "big teaser" for season 5 is that Ezra might be dead and honestly.. I don't care if he dies or not. So that's a shitty teaser, because I don't care. Kinda hope he is dead to be honest. Oh and as I predicted, Caleb is coming back to PLL. I refuse to even talk about this because I'm so incredibly annoyed/pissed by this whole Rosewood and Caleb disaster.
NCIS
Yawn. I really haven't had a ton of good things to say about this season and that really hasn't changed very much. I like bits and pieces from episodes, but I haven't loved any episode yet, other than the very last episode that aired. It focused on the real life problem in the military right now of uniformed females being sexually assaulted. I do felt like they covered this very hot topic incredibly well and very tastefully and still stayed true to the issue. It was a good episode and I actually watched it a 2nd time.
One other thing NCIS has done this year that I enjoyed was their backdoor episodes for a potential spinoff in New Orleans. It was a 2 episode thing and honestly, after the 1st episode I was mostly annoyed that NCIS was going to try to create another spinoff. However, by the 2nd episode I was liking the possibility of the NCIS New Orleans show more than another season of NCIS. Which probably says a lot. Yawn.
NCIS: Los Angeles
For as boring and terrible as NCIS has been, NCISLA has been the exact opposite. This season has kicked every other season's ass. I'm beyond in love with all of the storylines they've thrown at me. Also, there is something to be said for a show that follows its storylines and doesn't leave plot holes all over the place. The Kensi storyline, so that the actress could take a few months leave to have a baby and then come back, was perfectly done and wrapped up so awesomely. The humor has been there in every episode and has blended perfectly with their intense plots and just yes. Yes, I've loved this season.
Chicago PD
My sister and I are obsessed with this new show. So, soooo good. If you're not watching it, you should be. First of all, Sophia Bush. Perfection. Second, Jesse Lee Soffer.. hot. So hot.This is a new show that I highly recommend. I actually don't watch Chicago Fire, so you don't have to be a fan of that show to like Chicago PD. Actually, my only complaint so far about CPD is that it has far too many crossovers with Chicago Fire. I mean seriously like every 2 or 3 episodes and there will be some crossover bullshit. Stop. It's totally unnecessary. Chicago PD can totally stand on its own, it doesn't need help from Chicago Fire. Actually, I think that I read that Chicago PD has had a much larger audience than Chicago Fire anyway, so stop it with the annoying crossovers.
Criminal Minds
I heart Criminal Minds, really. No matter how blah a season is, I'm probably always going to like it. This season has been pretty blah for me. Yet there have been some serious star episodes this season too. I loved the episode where we finally got to learn about JJ's hidden storyline and Prentiss came back, which was fabulous! There was also a Garcia episode that I really liked and I also
loved
the episode titled
"Blood Relations"
with the creepy swamp guy and the 2 feuding families! It was SO creepy and so good and directed by one of the actors and did I mention it was creepy and good? Otherwise this season has been pretty blah..
I don't think I'm caught up on any of my other TV shows. So, so behind.
And I won't be catching up on any this weekend. I'm off to St. Louis for the weekend!!
Follow me on
Twitter
and
Instagram
to stay caught up with me in the big STL!
. . . . . . . . . . . . . . . . . . . . . . . . . . . . . . . . . . .
Quick little
(big)
announcement too..
Sarah
came to me with a genius idea and I fully supported it, so a fun one time link-up was born!
I'm sure you've heard of "roasting" someone. Where you poke fun at them, tease them, point out their flaws, etc. etc. The problem is that most people roast themselves every day. It's easy to pick out the flaws in yourself and much harder to pick out your strengths and then even harder to admit your strengths out loud to someone else. Well, that's exactly what
Sarah
,
Juliette
,
Becky
, and I want you to do.
It's called a
Honey Roast
and we want you to do it to yourself and then write about it and link-up so you can share your strengths and all the good parts of you and your personality with everyone else.
This is a one time link-up that will be next
Thursday, May 1st
.
Start your month off on a positive note!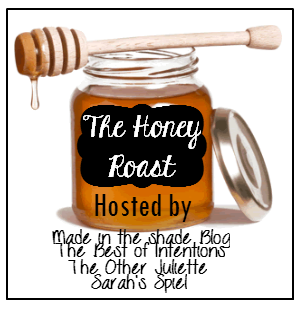 See all you snicklefritzes on Monday!