I wasn't going to do another link-up this week, but I think this one is just too funny and I've never done it, so surprise! I'm linking up. Check out these peeps, they're funny too.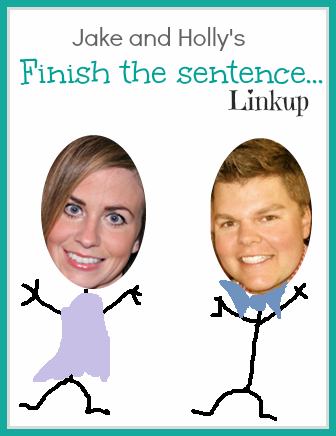 1.
If calories didn't count, I would eat...
a year's supply of Reese's peanut butter eggs, in one sitting.
2.
On my Prom night...
I ended up watching a movie with my date.. and his girlfriend.
3.
When I go to the store, I always buy...
some form of cheese. I have an addiction.
4.
Family functions typically...
involve someone being lovingly made fun of, good food, and all of us rolling in laughter at some point. We're a funny family.
5.
I think my blog readers...
are sweet for actually reading my blog! I really thought only my mom would read it.
6.
I'd much rather be...
sitting in a hot tub drinking a glass of wine. And yes, probably enjoying some cheese with that wine. It's an addiction I tell you.
7.
I have an obsession with...
the IU Hoosiers. Period. It's a real, true love.
8.
My work friends...
have no clue I blog and I'll probably never tell them.
9.
When I created my Facebook account...
I was in high school and created it before it was "cool" to have one. My oldest brother had one because he was in college and so I thought I needed one. I'm a trend setter.
10.
My least favorite word is...
flabbergasted. I don't know why, but I've always hated that word.
11.
I really don't remember...
life before my sister was born. She's my best, best, bestest friend.
12.
Justin Bieber...
needs to stop. Just.. stop. I like some of your songs, but you.. no.
Okay, that was fun. But now I have to be a big girl and do actual work today. Waahhh!
Anyway, link up with these two! They're fun! Do it, do it!